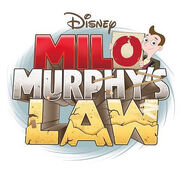 Milo Murphy's Law is an American animated television series from the creators of Phineas and Ferb. The show stars "Weird Al" Yankovic as the titular character, Milo Murphy, a 13-year-old with a reputation for extremely bad luck, but is persistent in finding ways to overcome it. Sabrina Carpenter stars as Melissa Chase, a friend of Milo Murphy who always sticks by him despite his bad luck. The show premiered on October 3, 2016 on Disney XD.
Ad blocker interference detected!
Wikia is a free-to-use site that makes money from advertising. We have a modified experience for viewers using ad blockers

Wikia is not accessible if you've made further modifications. Remove the custom ad blocker rule(s) and the page will load as expected.